Contact Us 2 New Contests

Join today or login

Home

View

Up For Review

Stand Out Posts

For Sale

Post

Stand-Alone

Book Collection

Que







Contests

For Sale

Traditional Art
A listing of the finest traditional art from artists worldwide. This includes paintings, sculptures and other forms of traditional art.
Photographs
Choose from two types of art. Traditional photographs are photos that are untouched or lightly touched with editing software. Mixed media photographs are art that is created from photographs.
Digital Art
View art created solely on a computer screen. See what can be created when the tools of the modern computer are put in the hands of an artist.




Shop with confidence. All art is sorted by the feedback that it received from reviewers. Find it on our listing and soon it will be displayed in your home or office.

Rankings

Profile

Info
| | |
| --- | --- |
| | |
| | | | | | | | |
| --- | --- | --- | --- | --- | --- | --- | --- |
| Category: | Drawing Traditional Art | Posted: | July 22, 2012 | Mixed Media: | None | | |
| | |
| --- | --- |
| | |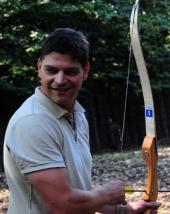 Wiltchy
Dave is an IT Technical Architect living in South Devon in England. His first memories of art are drawing lots of parrots when he was about 7. After passing his 'O' and 'A' levels in art he missed the opportunity to gain entry into the Edinburgh College of Art after being held up in Libya following the bombing in 1986. (He lived there for a time whilst his father was working there) and almost his entire portfolio had mysteriously disappeared from the art room when he had returned. The normal 9 to 5 routine followed and it wasn't unitl 2009 when his passion for drawing returned when his friends bought two kittens and he drew 'Chili in the Tree' (Something he is very greatful for) and Charging Elephant soon followed along with a few others. Whilst his passion for art has returned he finds juggling drawing with long hours at work difficult but through study and advice from others, his art is improving with each piece and soon hopes to be able to produce fine quality drawings that others ...


Portfolio | Become A Fan
© Copyright 2013 Wiltchy All rights reserved.
Wiltchy has granted FanArtReview.com, its affiliates and its syndicates non-exclusive rights to display this work.
Contact Us
© 2013 FanStory.com, Inc. All Rights Reserved. Terms under which this service is provided to you.