Reviews from
Awakenings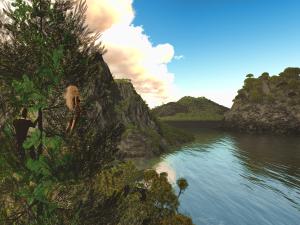 Cinci's first evening view down Lake Wabaguin
34 total reviews
Comment by

Review Stars


First I find the story linteresting and the overall image here is beautiful
.
What I could not understand was the image in the trees.
.
The man shadow yes, the brown image hard to understand its shape.
.
Thank you
TSArt




Comment Written 23-Feb-2012






reply by the artist on 23-Feb-2012

LOL. Sincerity Dawn has a ton of blonde hair. If that's what you mean by the brown. Cam is on the other side of the tree. Hope that helps. Thanks for reviewing it anyway.



reply by the artist on 23-Feb-2012

LOL. Sincerity Dawn has a ton of blonde hair. If that's what you mean by the brown. Cam is on the other side of the tree. He's sitting on a branch. Sincerity is standing on one and hanging onto another. Hope that helps. Thanks for reviewing it anyway.



reply by TSArt on 23-Feb-2012

Thank you for explaining...:o)
Comment by

Premier Artist
Traditional Photographer Rating

Traditional Artist Rating
Rank: 8
Review Stars
Rank: 122

Stunning work and the first look told me it was an image then read your narrative! Pretty impressive and the colors are so true and realistic looking down to the sky and the water. Love the story and the addition of your special Sincerity Dawn Ward to the image with her rescuer as well! Wish I had a 6 star for you!
/Chickadee




Comment Written 21-Feb-2012






reply by the artist on 21-Feb-2012

LOL. Thanks from me and from Sincerity in Cyberspace. Will email later. Dealing with politicians today.



reply by chickadee on 21-Feb-2012

Oh great, not the best thing to be dealing with at the best of times! Thank you and your welcome! You do some jaw dropping work!



reply by the artist on 22-Feb-2012

LOL. Opposition parties are ganging up on current govt. of MB to force some payout for damages in 2011. Looking for ways to embarass them into paying up I guess. They know I want to stop the flooding at it's source where it is best for the environment rather than downstream where some megaproject doesn't work. So I get dragged into the fray now and again. I just love my swamps where my fav critters live and hate to see them drained. They hold back water but farmers hate them. Will mail about books later today or tomorrow when the heat dies down. Liberals had some big meeting in Brandon last night so I expect some calls today again. Sigh ...



reply by chickadee on 22-Feb-2012

I see the empty promises from last spring are taking hold now that the problem is not crucial! Buggers! Draining swamp land just causes other ecological problems such as the diminishing water fowl and amphibians, but mostly the leopard frog. Kind of sucks that the government who sit on their duffs figure they can control nature while destroying it as well for the sake of appeasing themselves and getting the framers off their backs. They need to learn that Manitoba has a great deal of swamp land and has been there way before the farmers. The farmers have to realize the problem and adjust, and stop going to meetings and come up with a solution with the government. Seems the government looks for the easiest way out and infringes on everyone by diverting the waters and causing more problems! Give them Hell and hopefully a logical solution will be the outcome as the money situation!!
Fighting with the municipality right now about posting deer crossing signs on hwy.#8 by our home. At least 6 deer hit in the last few weeks. A herd crossed twice a day from one brush area to the other behind our house. The highways is getting involved now as well. They seem to think it will not help. Told them I will post my own signs. He laughed! I wasn't kidding! Getting on my nerves that the city slickers who move out here think there is nothing but them on the road! Had a new neighbor from the city tell me to keep my dogs in at night as they are getting into his garbage! I asked him if he is aware that the coyotes, fox, skunks, raccoons could very well be the problem while telling him my dogs are never out in the middle of the night! He turned white and did not realize wildlife lives here. Idiot!! Also told him that keeping the garbage outdoors unprotected is going to create a bigger problem for him than he can handle, with the wildlife getting bolder about coming into his yard!
Have fun and hope everyone goes away happy!



reply by the artist on 22-Feb-2012

LOL. Well I have a photo where I had to shoot over the head of a bear coming into my house through the screen door. Never hit the bear but man did he go! I use bungies on my garbage can but I've had coons roll them hundreds of yards away from where I kept them.
I have a ramp up to my backdoor, built for the woman who used to live here. I regularly have deer tracks on it and coyotes who come to try to catch my cats. I always open the door slowly because twice the resident skunk was munching cat food. Momma skunk had her babies under that ramp. I never bothered her and she never bothered me and boy were those babies cute! When they went behind her in a line it looked like a giant B&W caterpillar. My next door neighbor keeps bees so they all got done in with his traps. Put up your own signs. People will take notice of them whereas no one pays attention to highway signs.
Don;t expect any logical answers from the government. They just posture until the issue passes. The opposition is just using the situation to get votes in the next election. The NDP won only in "Floodipeg" but they have to make it look like they care about the rest. Besides, their city problems flows from out here in the boonies first. I do what I can. I want to divert water into the swamps and hold it there as long as possible. Leopard frogs and spade-footed toads love me! Politicians do not.



reply by chickadee on 23-Feb-2012

That is horrible for someone to set traps for the sake of the bees. There are many hives you can get where nothing can get into. Kind of a shame to see that happening. We had some poachers here last year and shot two of my bucks and just left them behind for the scavengers. I was just livid and so was the other neighbor. Has happened on several occasions. A fun story about a skunk. A friends neighbor's son who is 3 said the cat was playing with her baby, the cat was male. l.o.l.The women never though anything of it and the child let the cat into the house and then told his mom the cat brought her baby into the house. The woman then investigated and it was a wee baby skunk and the cat was looking after it like it was his baby. Cleaning it and cuddling it. Not sure what the woman did with the skunk but hear they make amazing pets. Very clean and mostly like dogs and use a litter box! HMMMMM! I hear the raccoons and so many coyotes here in the summer, head up north in the winter. We keep our garbage in the back of one of the half tons and nothing seems to bother it. Go to the dump once a week though. I seriously think I will put up my own signs, but the highway guy said make sure it is not on the highway shoulder or they have to take it down! He said it sound like a great idea though!l.o.l,. Also said don't tell anyone I told you that!l.o.l.

Yes the government is a force to be reckoned with and they have their own rules, just too bad they don't play by them! They are crooks and the worst of story tellers without any results in the end. Once they get voted in all the promises are gone. Fight for your swamp, the frogs need a new lease on life. There use to be sooo many leopard frogs when I was a kid. In Biology one year we had to dissect some leopard frogs, they were live and when school was out I took them all and brought them home. My parents knew I was always bringing something live home so really never questioned the 20 something frogs.l.o.l. We went to a swamp outside the city to release them. Nobody ever found out I took the frogs. I had thrown them out the window, got a pail and collected them after school let out!l.o.l. They brought in dead frogs next week. Not sure if I won that war but was happy to let the frogs go back into the wild. We are looking to buy a 1/4 section of land all forest. My plans are to have a wildlife sanctuary there with deer, bird, and all types of animal feeders. Hope this happens. In the middle of nowhere with crown land all around! No hunting of course and will monitor the property during the hunting season. Should be interesting with all the signs I will post to see how many hunters will try to cross the line! They at times seem to think they have no rules as well. Politicians are just concerned about the all mighty dollar. Keep up your war with them! Possibly they will leave you alone.



reply by the artist on 23-Feb-2012

Hey girl, congrats on the big wolf win! You'll be getting an email from trailblazer101@live.com.
You may have to fish it out of your junk mail folder since it's regarding a gift for your hubby as requested.



reply by chickadee on 24-Feb-2012

Oh thank you soooo much Bob! Was a great thing to come home from work to! Made my day!! l.o.l. Sent you an e-mail back and will have the money in the mail tomorrow! Just let me know if I got the amounts correct!
Comment by

Premier Artist
Traditional Photographer Rating

Mixed Media Photographer Rating

Traditional Artist Rating

Review Stars


Wonderful fantasy composition.
Love the colors, the story, and
The overall presentation. You
Clearly have so much talent.
Good job.




Comment Written 17-Feb-2012






reply by the artist on 17-Feb-2012

Thanks. Dunno about the talent but your comments are appreciated.
Comment by

Review Stars


Another great computer art you have shown here. No matter what you say, you have a great eye for detail which I am sure really makes your novels even more interesting.




Comment Written 17-Feb-2012






reply by the artist on 17-Feb-2012

Many thanks for your comments. As for novels, yes, it appears most people like them but I ain;t rich from them. ;>)
Comment by

My friend, the image here is really pleasing to the eye. The composition is well done and the use of space is great. I like the contrast of the blue sky, grey rocks and the transparency of the river. Thanks for sharing, Cyn




Comment Written 16-Feb-2012






reply by the artist on 17-Feb-2012

Thanks for the detailed comments. Appreciated.
Comment by

Premier Artist
Digital Artist Rating
Rank: 25
Review Stars
Rank: 177

Excellent digital and enjoy the detail and water. Your bombshell appears she is going to fall off, long way down; Nice perspective. Yea, know you did this one just for me but out of 5+ blinker fluid, left them on all night outside a cheap motel room. Had this noisy neon sign, kept blinking on, off. Distracted by you're bombshell but not that good so left her, wheeled Indian over to a all night dinner to get another jump for my Indian, her battery low on blinker fluid. Like I say low on blinker fluid. Catch you in the Dinner, LATE!!
Dave




Comment Written 16-Feb-2012






reply by the artist on 17-Feb-2012

Your nuts! I approve! I like it. No bombshell will not fall off. Lives on through 7 novels so far ... see u at the diner.



reply by bunkie on 17-Feb-2012

You are welcome. Yea, know she will catch up with me and not going down this path. Take Care.
Dave
Comment by

Review Stars
Rank: 122

Looks like Barbie to me... :) It is a beautiful scene with great colors and clarity, and a fabulous story behind it!




Comment Written 16-Feb-2012






reply by the artist on 17-Feb-2012

Ole flat-chested Barbie would never touch this gal for style. In the novel she detests and thumps those that makes the comparison.
But they guy call her "Attitude Barbie" which you may have seen in other posts. Thanks for commenting.



reply by bosch2 on 17-Feb-2012

Yikes! Better watch my back!!!



reply by the artist on 17-Feb-2012

You're quite safe. I keep her locked in cyberspace...



reply by bosch2 on 17-Feb-2012
Comment by

2008 Mixed Media Photograper Of The Year
Premier Artist
Shirley
Traditional Photographer Rating
Rank: 177
Mixed Media Photographer Rating
Rank: 47
Traditional Artist Rating

Digital Artist Rating
Rank: 44
Review Stars
Rank: 340

Nice TB, I actually thought this was one ofyour photogrphs and I was looking for the fly fisherman, lol until I saw Sincerity Dawn wandering along the shore. Enjoyed as always :))




Comment Written 16-Feb-2012






reply by the artist on 16-Feb-2012

Actually she's way up in a treetop! Oh one of these days I'll post a photo again. But with this new crop of FARTs (Fan Art Review Terrorists)one has to spend $200.00 before you show up off of page 86.Well, maybe a SLIGHT exaggeration ...
Thanks for stopping by Shirley.
Comment by

Premier Artist
Traditional Photographer Rating

Mixed Media Photographer Rating

Digital Artist Rating
Rank: 12
Review Stars
Rank: 234

This deserves a six so here's a cyber six on this one i love it. This made me go back to daz again i am going to learn these 3d programs sooner or later. After reading your profile you are one very impressive person.
Fantastic work!
Diane




Comment Written 16-Feb-2012






reply by the artist on 16-Feb-2012

LOL. I'm one old fart with a leg in the grave. A has been (or never was). Yes this could have been done in DAZ but Bryce would be better, although I didn't use that either. Did you know you can download the FULL version of DAZ Studio, Bryce 7 and Hexagon 2.5 all for free? You'd better get them before they change their mind!Then you can take your twisted brush and really cook!

~Trails



reply by lynnkah on 16-Feb-2012

I already downloaded them LOL still can't seem to get the hang of it though, but then I'm terrible about reading directions or looking at tutorials guess that would help huh LOL
your work is fantastic
diane



reply by the artist on 16-Feb-2012

Sounds like me. Jump in the middle and read to both ends. DAZ has a good video tutorial though. Well worth taking the time to watch through it. It's turned into a very powerful program, in which you can make clothes and a whole host of things it never had before.
Or you can buy Maya. That is if you have the $3800.00. I like the free idea better. I think it's more gooderish, even if I don;t use Daz that often.
Comment by

Traditional Photographer Rating
Rank: 281
Mixed Media Photographer Rating
Rank: 91
Review Stars
Rank: 75

I already liked this one when I saw it, but was thinking it was a photo. So it amazed me even more that you created this from Digital Art. Very nice colors and design and composition.




Comment Written 16-Feb-2012






reply by the artist on 16-Feb-2012

LOL. Well anyone can do it. It's just learning how to run some pretty complex software. Now if I had to do this with a brush it would be shall we say ...impressionistic? Thanks for dropping in.

~Trails
Splash! by tinlight

Paintings and photos of our feline friends
Comment on this to earn at least 10 member cents and 10 points. (info)


Promoted by tinlight, a premier artist.
"Wild Bengal tiger sisters water-boxing"
| | | | |
| --- | --- | --- | --- |
| | | | |
© 2013 FanStory.com, Inc. All Rights Reserved. Terms under which this service is provided to you. Privacy Statement