Contact Us

Join today or login

Home

View

Up For Review

Stand Out Posts

For Sale

Post

Stand-Alone

Book Collection

Que







Contests

For Sale

Traditional Art
A listing of the finest traditional art from artists worldwide. This includes paintings, sculptures and other forms of traditional art.
Photographs
Choose from two types of art. Traditional photographs are photos that are untouched or lightly touched with editing software. Mixed media photographs are art that is created from photographs.
Digital Art
View art created solely on a computer screen. See what can be created when the tools of the modern computer are put in the hands of an artist.




Shop with confidence. All art is sorted by the feedback that it received from reviewers. Find it on our listing and soon it will be displayed in your home or office.

Rankings

Profile

Info
Reviews from
Snow in Dentdale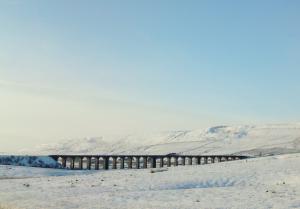 Viewing comments for Page 206 "Snow around the viaduct"
on the high moor in Cumbria
2 total reviews
Comment by

Traditional Photographer Rating
Rank: 133
Review Stars


I have always been a fan of bridges, especially old bridges, although this one doesn't look that old. On road trips (in my younger years) we used to just enjoy stopping on the old bridges (in the country) and sit and have a beer...perhaps a farmer would come along and stop and have a beer with us. We might or might not see a car in a half hour. Don't know if you could stop on a similar bridge for cars but what a great bridge.

The contrast between the snow and the bridge is great. The light blue sky reminds me of those cold Wyoming plains days where you don't see much except snow and feel the cold. The bridge adds a nice vertical symmetry to the picture.






Comment Written 16-May-2012

1 Additional Chapter Reviews





reply by the artist on 17-May-2012

Thank you. This railway viaduct was built in the mid 1800's. You could have a beer nearby as there is a pub almost underneath it that sells good food and beer. There is also a railway station with a museum just to the left of the picture. There is nothing else for some miles except a tea van at the weekends for the walkers. Its scary at night as it is SO dark when cloudy and not even a star showing. But worth a visit.



reply by EcuadorHawk on 17-May-2012

That sounds like a bridge made for me to visit!
Comment by

Premier Artist
Traditional Photographer Rating

Mixed Media Photographer Rating

Review Stars


Nice wintertime shot. Good initial impact, Excellent clarity. Like the bridge in front, adds interesst. Nice composition. Thanks for sharing. Rebecca




Comment Written 16-May-2012

1 Additional Chapter Reviews





reply by the artist on 16-May-2012
My Mom on a windy, sunny day.
| | | | |
| --- | --- | --- | --- |
| | | | |
© 2013 FanStory.com, Inc. All Rights Reserved. Terms under which this service is provided to you. Privacy Statement