Reviews from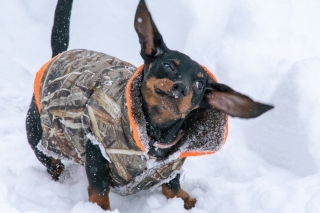 Sadie shaking off the snow

3 total reviews

Comment from

Envision

I think the goofy look is great :) You captured the motion well and a very cute goofy expression. I agree with Sadie, we have had more than enough snow now!

Comment Written 13-Feb-2019
---
reply by the author on 13-Feb-2019
Thank you and hopefully the snow is over!
Comment from
alaskapat
So cute and it made me laugh! Nice stop action capture showing this silly expression as Sadie shakes off that snow! Well focused, the image is clear, exposure is well managed, colors and tones appear natural, I love her little coat and the way her ears are standing out like wings! Best wishes to you in the contest!
Comment Written 13-Feb-2019
---
reply by the author on 13-Feb-2019
Comment from
willie
Nice shot! This dog, like my Pug being built so close to the ground has a hard time in the snow. I have to make a path so she can go pee. I like the look on Sadies face and I like the ears! Good luck with your contest!
Comment Written 13-Feb-2019
---
reply by the author on 13-Feb-2019
Thank you very much :) Yes, Sadie will stand on the front step and pee if we don't clear a path.....my pug loves the snow! Dogs are the best :)