Reviews from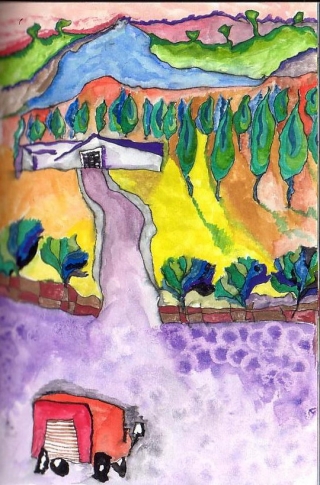 through Lincolnshire!

3 total reviews

Comment from

liseworks

lots of colours here,,guess on this trip you saw lots and lots of landscape with barns,,love the reminiscing this contest has brought to you, I gather that this is one of the many views you have witnessed on these trips, nice entry

Comment Written 11-Mar-2019
---
reply by the author on 12-Mar-2019
thank you. As I sit on the bus I often just do pencil outlines of what I am passing, occasionally other passengers, but nowadays we have many Muslims in the country and they do not allow their portrait to be drawn as God made them and you are copying the work of God. Artists should pattern only to his Glory, not try to repeat. I lived in London for ten years and often travelled up north to see my parents, and back again in one weekend. But that is a different sort of viewing to Yorkshire to Lincolnshire.
Comment from
Susan F. M. T.
Renate,
a beautiful dream like image looking over the winding lanes weaving between the fields of the Lincolnshire countryside the sun from abve making the trees cast their shadow before them. Created by your artist's eye for composition very skilful brush work in your unique style beautiful choice blending & application of your colors to life.
Susan
Comment Written 09-Mar-2019
---
reply by the author on 10-Mar-2019
Comment from
Kelly Grant
This is a very nice piece and a great entry for this contest! The color blending and shadowing are awesome! Great job, and good luck in the contest!
Comment Written 09-Mar-2019
---
reply by the author on 10-Mar-2019