Still Life Art Contest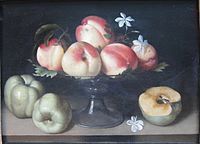 This is a still life art contest. A still life is of inanimate subject matter, typically commonplace objects which may be either natural (food, flowers, plants, rocks, or shells) or man-made (drinking glasses, books, vases, jewelry, coins, pipes, and so on). This art contest is for all forms of art. That includes pen and ink, pencil, watercolors, charcoal, sculpture, computer art and all other forms of art. No photography.
The winner takes away a $100 cash prize. Every post will receive feedback for their submission.
Deadline: May. 8th
Enter This Contest
Copyright © 2000 - 2021 FanStory.com. All rights reserved.
Terms
under which this service is provided to you. Our
privacy statement
.