Category: Expressive Traditional Art
Posted: April 4, 2016
Expressive Art.
Blood On The Streets! A Story To Tell - Art Contest Entry

You can own this. Offers accepted. Information
I did this work in pencils and sharpies on paper and watercolours. I then added some effects with the help of filters to give a dramatic effect. The recent happenings in Brussels led me to do this work.

The Story: Brussels attacks: How terrorist atrocities make us behave atrociously

"People were running over others that had fallen, I couldn't breathe," said a 15-year-old boy called Antoine.

"I can't believe I'm alive."

The terrified stampede over the dead and dying of Brussels is understandable. Everywhere there was blood, fear and confusion.

The innocent had been slaughtered while going on their Easter holidays, commuting for work, or waving goodbye to a loved one.

GettyA member of the civil protection holds his face in his hands near the Maalbeek metro station in BrusselsA member of the civil protection force holds his face in his hands as he come back from the Maalbeek metro station in Brussels, one day after the attack that killed 20 people
Once again we were witnessing the torn bodies and raw grief that terrorism brings. We've seen it so many times before - on 9/11 in New York, on 7/7 in London, at the Bataclan in Paris.

There's barely a nation which hasn't suffered. Russians were blown from the sky over Egypt, tourists targeted on a beach in Tunisia, coffee drinkers held hostage in Australia and Muslims attacked all over the Middle East, Africa and Asia.

And as once more those terrified people crawled over one another and a few heroes rushed into danger to comfort the wounded, some decided this was the right moment to score a point.

Within 45 minutes of the first bomb blast at Zaventem Airport, while people were still bleeding on the floor and long before we had any clue about why the authorities hadn't stopped it, writer Allison Pearson tweeted:


An hour and a half later as a second attack on a Metro train unfolded, and long before we had any clue about the killers' route to mass murder, UKIP defence spokesman Mike Hookem put out a press release saying it proved Europe's border rules were a security threat.

By 11am GMT, as footage of chaos and destruction was shown on rolling news channels worldwide, Donald Trump woke up in Washington and decided this was just what he needed.

At 7am local time he tweeted that Brussels was "no longer" beautiful, then went on Fox News to say this was why America had to ban all Muslims from entering and elect him President.

ITVDonald Trump on Good Morning BritainHe said it again today on Good Morning Britain, where he's not even standing for election
At lunchtime celebrities expressed condolences, Jeremy Corbyn offered his solidarity with the emergency services, and many ordinary people were praying for those caught up in the horror.

By teatime #StopIslam was trending on Twitter and ordinary people were blaming everyone with brown skin, a beard or a headscarf.

They were slower to blame the Belgian authorities, which underfunds its security services to the extent that the world's most wanted man can live under their noses in Brussels for four months.

They were slower to blame the border guards who not only allowed the guns used in January 2015's Charlie Hebdo attack across its border, but did it again for the November Bataclan massacre, then picked up and questioned the main suspect hours later before letting him go.

Abdeslam SalahThe capture of Salah Abdeslam is likely to have brought a planned attack forward over militants' fears he will leak information
They did not question the fact there are 2,600 policemen in Antwerp but only 22 of them are non-white and few speak Arabic.

They did not stop to think that with coalition bomb attacks reducing ISIS' territory and oil in Syria and Iraq these fascists are contracting and lashing out in weakness at the softest targets they can find - us.

Nor that these killers are part of a political movement which has more in common with fascists and Nazis than they do the people down the street who worship the same God in a different way.

No, they blamed Muslims. It was easier.

Certainly easier than realising that Hitler also claimed in Mein Kampf to be "doing the work of the Lord", and Christians weren't blamed for his actions.

GettyPeople gather at Place de la Bourse in support of the victims after the terrorist attacks on March 22, 2016 in Brussels, BelgiumPeople gather at Place de la Bourse in support of the victims after the terrorist attacks on March 22, 2016 in Brussels
And amid it all, 34 people died.

Parents, lovers, children, friends. Another 200 or more were injured, many with the sort of wounds that take a lifetime to overcome.

Mobile phones rang unanswered as worried relatives sought contact. Ambulance crews tried to stem the flow of blood from shattered limbs and the wounded, in shrapnel-shredded clothes, stared uncomprehendingly at the wreckage of the world around them.

Today panicking people tour the hospitals to find those they still haven't had word from, hoping they're in a coma rather than the morgue.

And somewhere there will have been a child who asked its mother how this could happen, why people are so unutterably cruel.

GettyA woman hugs a child in her arms as they pay a tribute to victims of terrorist attacksA woman hugs a child in her arms as they pay a tribute to victims of terrorist attacks in Brussels at a makeshift memorial
And the mum will have said that sometimes people are just unkind and thoughtless, and given her child an extra big cuddle.

But she could be talking about us as much as the terrorists.

The sad truth is that the more these atrocities happen, the more atrociously we behave.

The killers have succeeded in desensitising us to their appalling madness and now we're joining them in it - hating before thinking, and blaming before knowing.

People - ordinary, decent, sane people - trample the dead, and are squashing the breath out of everything we should hold dear.

AcK: www.mirror.co.uk ? News ? UK News ?
Post Type:
Traditional Art
Mixed Media
: Minor Original mixed media traditional art
Pays one point and 2 member cents.




Blood On The Streets! by seshadri_sreenivasan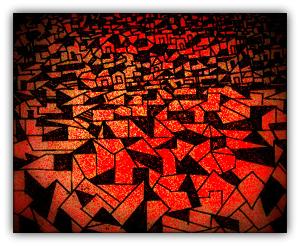 You need to
login
or
register
to write reviews. It's quick! We only ask four questions to new members.
© Copyright 2022.
seshadri_sreenivasan
All rights reserved.
seshadri_sreenivasan has granted FanStory.com, its affiliates and its syndicates non-exclusive rights to display this work.