Reviews from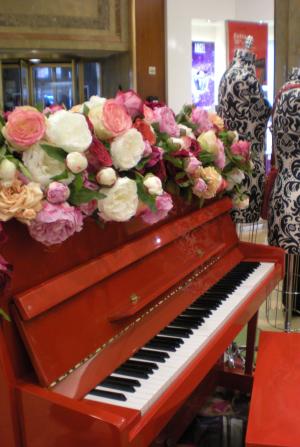 Decoration in the entrance to Macy's

3 total reviews

Comment from

alexchiru

A nice concept... musical flowers !

Many, many color and theirs harmony is perfect.

Also a good depth of field.

I feel atmosphere and I heard the music !

Comment Written 04-Jul-2008
---
reply by the author on 04-Jul-2008
Thank you so much for insightful comments.
CammyCards
Comment from
tuckerkao
Nice enlightenment of the beautiful flowers set on the top of the piano. The camera focus may seems too soft around the edges in some areas especially around the theme.
Comment Written 04-Jul-2008
---
reply by the author on 04-Jul-2008
You are right about the focus, as I mentioned in the notes to the photo. In the busy entrance to this store, it was hard not to be jostled all the time. Thank you for your review.
CammyCards

Comment from
StRyCh9
I like your angle on this. Exposure on the angel poster in the background borders bright and darws the eye. Enjoyed the color rendition. Focus is not bad given the light you had to work with. Nice depth isolates your subject. A pleasure to view this composition.
Comment Written 04-Jul-2008
---
reply by the author on 04-Jul-2008
Thank you for your nice review.
CammyCards