Reviews from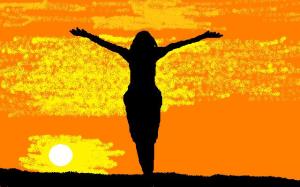 Silhouette of a person.

13 total reviews

Comment from

donkeyoatey

What a glorious feeling you have created! The colors are magnificent. I like the silhouette idea. Placing the sun low but keeping the light bright was a stroke of genius on your part. Donkeyoatey

Comment Written 24-Dec-2008
---
reply by the author on 24-Dec-2008
I am very pleased with your review. Thank you very much.

Vernonette Marguarite
Comment from
CammyCards
I think you have fully succeeded in showing someone thankful and happy. The figure's stance is uplifted. The placing of the sun at the bottom, really enhances the lift. The contrast of colors is really great.
Merry Christmas.
CammyCards
Comment Written 24-Dec-2008
---
reply by the author on 24-Dec-2008
I thank you so much for your uplifting critique.
Merry Christmas to you also.

Vernonette Marguarite
Comment from
Surmed
Its a nice creation, i like how you have painted this silhouetted women, spreading her hands and it shows that how blessed she is from the Nature, and thanking to GOD in her own way. Well done and pleasure viewing it.
This rating does not count towards story rating or author rank.
The highest and the lowest rating are not included in calculations.
Comment Written 24-Dec-2008
---
reply by the author on 24-Dec-2008
Thank you for taking the time to look at my artwork and for your kind review.

Vernonette Marguarite
reply by Surmed on 24-Dec-2008