Reviews from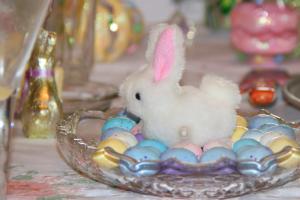 The Easter Table

3 total reviews

Comment from

Life is but a dream.

It is all those very gentle pastel colours that I find pleasing.

In your well diffused background you find pastel hues and of course the bunny and eggs in good focus are also pastel.

I wonder if you could have cropped out (or cropped closer) on our L side to eliminate that glass? You also nipped off a piece of that glass tray the bunny is sitting in.....to balance it off you could nip off a bit of the plate at our L. Cropping is an artist's tool so I bow to your artistic prerogative.

Very pleasing to the eye this image, soft and gentle....sweet.

Comment Written 29-Mar-2016
---
reply by the author on 30-Mar-2016
Thanks Olga for your input. You know I struggled with that glass myself. Appreciate the time and effort as always. Aimee
Comment from
Lolly Cardinal
Wonderful ideas make wonderful photos! This is really pretty. Beautiful pastel colors and very pretty bunny in with nice colored eggs. Perfectly shadowed and centered. What a pretty eye viewer.
Thanks for showing. Congratulations and Good Luck.
Lolly
Comment Written 29-Mar-2016
---
reply by the author on 30-Mar-2016
Thanks very much for taking the time to review and comment. Much appreciated.
Comment from
Linda Bickston
One look at your photo, and we know that this is Easter. The focus is wonderful, and the composition sets the stage for the celebration. Bright and beautiful.
Comment Written 29-Mar-2016
---
reply by the author on 30-Mar-2016
Thanks very much for taking the time to review and comment. Much appreciated