Reviews from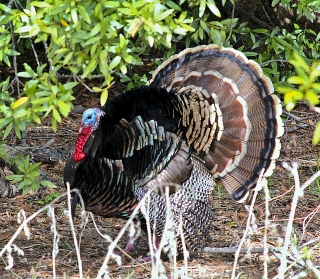 A strutting turkey in spring

2 total reviews

Comment from

El-mundo

A fantastic, well timed shot of this turkey, with it's tail feathers fully outspread (It's weird because I've been photographing "turkey tail fungus" recently and can totally see why it's called that now!), showing the full and bizarre irregular shape and design of the birds body, I've always found them to be quite weird and scary! Good lighting, good DOF with the greenery behind still in decent focus, and good clarity showing the detail intricately on this plump Turkey! great work and best of luck in the competition! :)

Comment Written 28-Nov-2017
---
reply by the author on 28-Nov-2017
Thanks for such a fine feedback. Tom turkeys fan their tale and also puff up their feathers overall to impress the females. The larger looking the better I guess. Thanks again.
Comment from
Yogendra R Modak
Wow super captured photo view of california Tom by great photographer .the way of showing loving turkey dancing in a spring to atract hen .the way of dancing view looking so beautyful in spring scenery view.great photography.
Comment Written 28-Nov-2017
---
reply by the author on 28-Nov-2017
Thanks for the fine review and your time looking at the image.
reply by Yogendra R Modak on 28-Nov-2017