Reviews from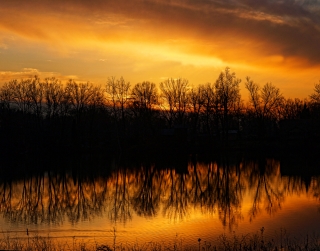 Viewing comments for Page 35 "Calm Evening"
To see a sunset is breathtaking

3 total reviews

Comment from

avmurray

This is a breathtaking sunset Willie, and I especially like how the colors from the sky is reflected in the mirror like water.

The silhouetted trees are standing out sharp and well defined against the lovely sky, and it is fine details to be seen down to the smallest twigs. I also think the exposure is very good.

I like the way you have cropped the photo as well and think it is a good balance in the composition. A beautiful and well taken photo with a good DOF, and wish you luck with the contest.

Comment Written 07-May-2018
---
reply by the author on 08-May-2018
Thank you so very much! I really like to hear your opinions.
reply by avmurray on 09-May-2018
You are most welcome Willie.
Comment from
alaskapat
Wonderful initial impact: beautiful deep golden tones! Nice cloud detail , beautiful reflection shot. The sunset over the lake with the tree line in silhouette against the sky and reflected in the calm water! Well focused, clear image, beautiful lighting, beautiful calm view!
Comment Written 07-May-2018
---
reply by the author on 07-May-2018
Comment from
karen zima
To me this feels like a sunset. It is a beautiful sunrise/sunset with it bold orange tones and touch of blue. The trees are nicely silhouetted and reflected in the water. Great photo...love it.
Comment Written 07-May-2018
---
reply by the author on 07-May-2018