Reviews from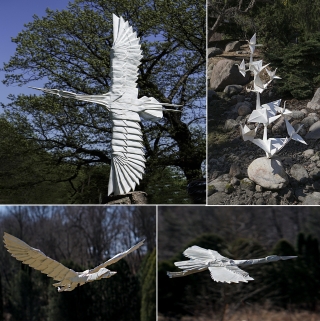 Metal origami sculptures adorn the ARB

3 total reviews

Comment from

nature rules

I am completely mesmerized by your collage...and your artist notes. Thank you so much for taking time for those. I have read them twice.

So I must congratulate you on your effort to photograph these amazing sculptures. Although they are a photographers Nirvana...they do not seem easy to photograph to show their intricate designs. And I can't decide if being outside is a good thing or makes it more difficult for the photographer? Using the outside natural light is always good if shadows can be controlled. And here you have subjects that are white and must have the shadows to show their detail.

Your top left is an amazing sculpture...they all are!! But that largest one is a very successful capture. Did you limit your collage to only the white birds in this exhibit?

It is difficult to say just what an initial impact this had for me. Of course the largest one is where my eyes went for a long time.

But your collage is so well put together in light and shadows and balance. The natural setting for the sculptures is wonderful. Was it difficult to find a position with your camera vs the light? I can imagine that you might need to be at each sculpture at a different time of day just to catch the most effective lighting. You truly have done a fine job showing the folds. Truly.

There is so much to study in each of these captures...thanks to your determination with your camera. Origami is a fascinating art. Transferring that to a metal sculpture is mind boggling!

Thank you for your efforts to share something so amazing from your ARB. Your collage has been put together with intelligent and artistic consideration. And with photography skill! Capturing detail and controlling depth of field has been accomplished. I applaud you! You certainly started my brain working quickly with this first cup of coffee this morning! Excellent post!! Now I must go back and read your notes again....with my second cup of coffee!

Comment Written 17-May-2018
---
reply by the author on 17-May-2018
Wow, what a long and thoughtful review of this collage. I had hoped you would like it, being eclectic in your appreciation of art.

These were a bit hard to photography. The saving grace was the fact that there were not really white. As an exhibit that has traveled across the country, the color now is sort of off-white (exposed to the elements over the years), kind of cream colored. I think this helped a lot so they were not blown out as whites can do. I was at the arb for 6 hours that day and I had to go back several times and look for a pov that would enhance the sculptures, using shade/sun angle to gain texture.

This display also extends inside the arb. One sculpture shows the "unfolded" paper of a paper creation, cast again in metal.

So again thanks for your very kind and interesting review!
Comment from
Imaginos
These are excellent photographs of some wonderful works of art. The talents of both photographer and creators are amazing. Great work. You selected a wonderful time of day to take the pictures as the shadows, mid-tones, and light are very complimentary to the subjects.
Comment Written 16-May-2018
---
reply by the author on 17-May-2018
Thanks a ton for your wonderful review of this collage, I do appreciate it a lot.
Comment from
alaskapat
Very nice collection of images featuring the origami sculptures , these are very interesting , very pretty to view, I like them done in the metal. Each image is well focused, clear to view, well exposed and show nice detail throughout, I really like this , for me it's a way to create something that might last forever as opposed to the traditional paper these are created with. Well presented, a pleasure to view, best to you in the contest!
Comment Written 16-May-2018
---
reply by the author on 17-May-2018
Thanks Pat for your great review and comments. I have not been to much into origami in the past. Somehow though these metal cast sculptures just appealed to me a lot.
reply by alaskapat on 17-May-2018
I agree with you, there is something special about these as sculptures.