Reviews from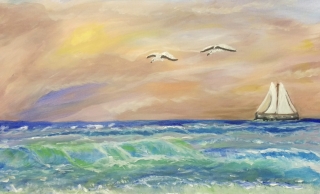 Sailing away from worry

12 total reviews

Comment from

iPhone7

Ah a nice image here Monica. Nice work on the waves. They look very natural. The sailboat is well placed to the far right while the sea birds are more centered leading the eye to the boat. The sky is very complimentary to the sea. Well done Monica.

P.S. Check the spelling in your narrative 'Leavie begins the hustle'... Just thought I would mention it ~ Steve

This rating does not count towards story rating or author rank.

The highest and the lowest rating are not included in calculations.

Comment Written 11-Jul-2018
---
reply by the author on 12-Jul-2018
Thank you so very much Steve for your generous review and rating! I appreciate YOU!
Thank you for the correction as well. I post to late and I am tired. I have to stop doing that LOL
Comment from
Sange
Shhhh...can you hear it?
Christopher Cross singing:
Sailing takes me away to where I've always heard it could be
Just a dream and the wind to carry me
And soon I will be free...
Beautiful soft pastel colors, nice movement in the water, two gulls in Flight and you and yours sailing away into the sunset.
Nice work Monica!
This rating does not count towards story rating or author rank.
The highest and the lowest rating are not included in calculations.
Comment Written 11-Jul-2018
---
reply by the author on 12-Jul-2018
I can hear it and love it! Thank you so very much Sange for your generous review and rating! I appreciate YOU!
reply by Sange on 12-Jul-2018
Sweet to hear that as I enjoy my first cup of coffee this morning. Right back at you Lady Monica.
Thank you! ;)