Reviews from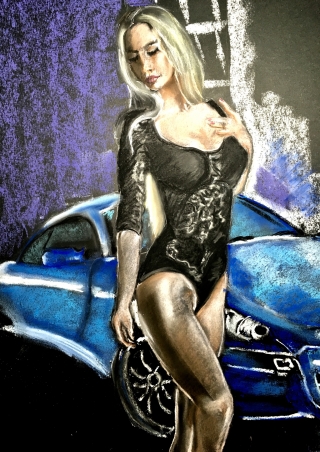 Pastel

12 total reviews

Comment from

Sean T Phelan

Hi James!

There ya' go,buddy!

: D

This latest pastel drawing that you've presented us with makes for a pleasantly interesting and highly enjoyable image!

A really 'Good Show' of a picture,my friend!

~Sean

Comment Written 05-Dec-2018
---
reply by the author on 05-Dec-2018
thank you so very very much sean
reply by Sean T Phelan on 05-Dec-2018
You're very welcome,James!
Comment from
alaskapat
A hot blonde standing next to an awesome blue car! She's wearung a sexy one piece one piece suit and she's gorgeous in her long blonde nude hair with realistic blended colors in various tones , well shaped and structured face and features, well shaped female body, the blue car is excellently shown and works perfectly as background ! Well rendered and presented!
This rating does not count towards story rating or author rank.
The highest and the lowest rating are not included in calculations.
Comment Written 05-Dec-2018
---
reply by the author on 05-Dec-2018
thank you so very very much