Reviews from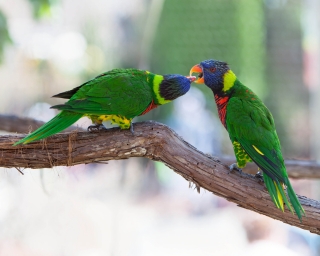 Colorful Parrots

2 total reviews

Comment from

avmurray

These two parrots are indeed colorful, and therefore a good entry into a contest like this. They look so sweet together, and it almost looks like they are kissing. The branch and the birds are also standing out from the softened background in an excellent way.

The photo is sharp showing clear and well defined details in both birds, and the over all exposure is fine even if the background is a tad too bright in places.

The photo is nicely cropped and the birds have got a fine placement within the frame. Indeed a cute and well taken photo with a very good DOF, and I wish you luck with the contest.

Comment Written 25-Feb-2019
---
reply by the author on 28-Feb-2019
Thank you for your kind review.
reply by avmurray on 01-Mar-2019
You are more than welcome.
Comment from
alaskapat
Two beautiful , very colorful parrots, they appear to be sharing a bit of food , I like their poses on the Branch and this special moment you have captured ,I like the two different positions of the birds allowing a nice side profile as well as a view of the back of the parrot, beautuful green bodies with blue heads , a bright lime green spot along the back of the neck , red chest and the vivid orange beaks. This is well photographed with good focus and the image is clear to view, nice details in feathers, face and beak, good eye contact on the bird on the right.well managed exposure, the colors and tones are natural. Well composed and presented!best wishes to you in the contest!
Comment Written 25-Feb-2019
---
reply by the author on 28-Feb-2019
Thank you for your kind review.