Reviews from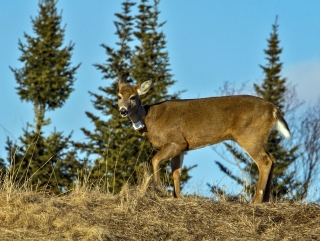 A wild deer wearing a tracking device

2 total reviews

Comment from

alaskapat

This is good storytelling, it shows how the game management conducts studies on the various wildlife, this is well photographed with good focus, the image is clear, exposure is well managed, the colors and tones appear natural. She is looking right at you and I can see the little glint in her eye! Well composed and presented!

Comment Written 20-Mar-2019
---
reply by the author on 21-Mar-2019
Comment from
Sange
I understand the need for tracking but I wish they invented a smaller device. Especially with today's technology.
Great capture Shirley, looks like the Deer is giving you it's on point pose like a dog does.
Like that it is looking your way.
Fine capture ;)
Comment Written 20-Mar-2019
---
reply by the author on 20-Mar-2019
Thank you Sange. I agree no need for such a large device; must be annoying especially when feeding. I appreciate the review and rating. Take care.

reply by Sange on 20-Mar-2019
They need Jame's Bond inventors.. :)
Today they make microscopic cameras. Listening devices.. and why make it white? Make it tg color of the animals they are tracking.
;)

reply by the author on 20-Mar-2019
Very good points Sange...I totally agree!