Reviews from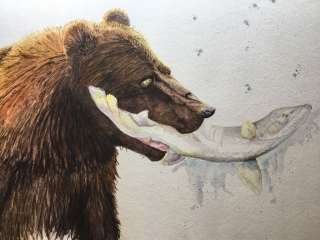 Watercolor wash on cold press paper/slight crop

32 total reviews

Comment from

Kevin Williams

Wow. Very impressive. Love the attention to detail and brush strokes on the bear. Great use of shadowing and composition. Your very talented. Great job.

Comment Written 14-Apr-2019
---
reply by the author on 15-Apr-2019
I do truly appreciate this review and all of the great comments. I am glad you enjoyed this.
Comment from
alaskapat
Wow Christine! I am blown away by the way you are showing the texture of this brown bears coat, that's impressive! Wasn't Katmai amazing ? And it's very amazing to see how these bears can catch their fish , they are pros! The king salmon is indeed quite a challenge to catch and they can get huge! This big guy has a firm bite on his catch and you show this so very well including the water drops! Nice shape and structure of the bear, perfect ears, good show of his face ,wet from fishing! This is very well rendered and arranged and I appreciate the opportunity to view ! Well presented! Best wishes to you in the contest!
This rating does not count towards story rating or author rank.
The highest and the lowest rating are not included in calculations.
Comment Written 14-Apr-2019
---
reply by the author on 15-Apr-2019
I am not sure I have ever been a place that I loved more than Katmai. I loved sitting among the bears as stupid as that may sound. I also loved fishing for salmon. That was an incredible experience. I wish I could have landed one by myself but I did catch one really big about 50 pounds and it took my husband and a boat hand to help get him in the boat. Really an adrenaline rush. You are so lucky to live there. I would go back in a heartbeat.
Thanks for all the positive feedback. Much appreciated.