Reviews from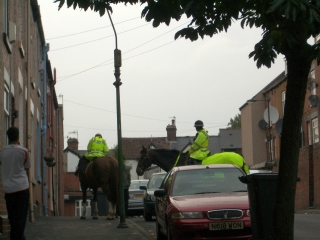 too many cars being parked

2 total reviews

Comment from

Kelly Grant

This is a very nice photo and a great entry for this contest! Very nice story behind the photo as well! Great job! Thank you so much for sharing and good luck in the contest!

Comment Written 15-Apr-2019
---
reply by the author on 16-Apr-2019
Comment from
Artistic Chick
At first I was amused by the cars, huge horses cluttering this narrow ally. But after reading your notes, it made me sad and glad that as an American I have many liberties that most Americans just don't appreciate. They have been spoiled and don't take the time to learn about the traditions of other countries. It sounds like the man pulled from watching TV was an immigrant? I must say that under the current leadership in America, it has become even worse. Putting up walls. Taking Mexican families and splitting them up, confining them to a tent city where some have died due to the neglectful treatment. But yet the president's first wife and current wife are Eastern European that he brought here. I guess it's the brown skin he objects to. Maybe he forgets that this is the "new world", the "land of opportunity". In America, all of us come from foreign ancestors...except Native Indians, whom many originated in Mexico. Hmmm. Thanks for showing this.
Comment Written 15-Apr-2019
---
reply by the author on 16-Apr-2019
thank you so much for your support. Actually, it is not a narrow alley, it is a normal street, my street infact for thirteen years.