Reviews from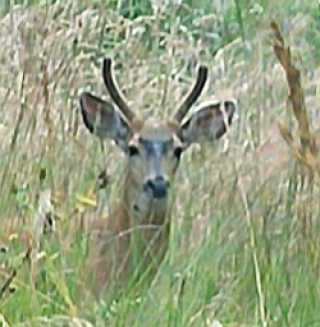 A one shot with my cellphone before he ran

2 total reviews

Comment from

Kelly Grant

This is a beautiful photo and a great entry for this contest! Nice lighting and composition! Great detail you were able to capture! Nice work! Thank you so much for sharing and good luck in the contest!

Comment Written 23-Apr-2019
---
reply by the author on 01-May-2019
I'm not sure why buck are such a rare sighing as opposed to the many doe I see, so it was a treat to see this young guy with his fuzzy single point antlers. Thanks.
Comment from
michiganmike
A nicely composed image. I like the look of the tall weeds he is peering through and the very nice colors. I'm afraid, however, that this one is blown up too much to retain much detail.
Comment Written 23-Apr-2019
---
reply by the author on 01-May-2019
Thanks Mike, Yeah, I played with coloring, lighting, saturation, and this was the best I could do. I think I ended p using a strong green to allow more contrast. But it is so rare to see a buck. Though it's not uncommon to see doe in the front yard. There are triplet "teenage" fawn that have been hanging out down the road. But this day, I just turned on my folk' private road and this young guy stuck his head and fuzzy single point antlers up. He really blended in more than it appears here. I slowed to a near stop and quickly grabbed my phone. I was only able to snap the one shot. I really didn't think it was quality enough for the contest, but it's so rare to even see a buck, I decided...what the heck.