Reviews from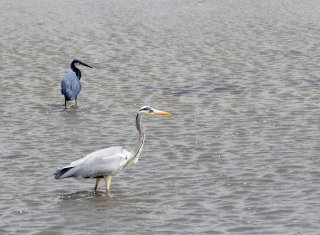 Herons in stream, Gambia

3 total reviews

Comment from

Brendaartwork18

I like this very much. The shot shows very good detail in colour and shadows of the water yet the water does not crowd the herons, in fact it pushes them into view rather nicely. The positioning is good and captures them in a paddling wondering together scene. Peaceful. Nice photograph, good focus and use of light.

Comment Written 05-Jun-2019
---
reply by the author on 05-Jun-2019
Thank you for your lovely review :)
Comment from
michiganmike
A nicely composed shot with good detail in the herons. I didn't know they were found in Africa. The colors are nice but not overpowering. Best of luck in the contest.
Comment Written 15-May-2019
---
reply by the author on 18-May-2019
Thank you for the great review
Comment from
adriansart
Nice idea for a wildlife image!
Two different species of heron both looking the sam way probably after the same fish, I also like the composition and how they are both looking into the rest on the image from the left! good luck with the contest!
Comment Written 15-May-2019
---
reply by the author on 15-May-2019
Thank you for your great review