Reviews from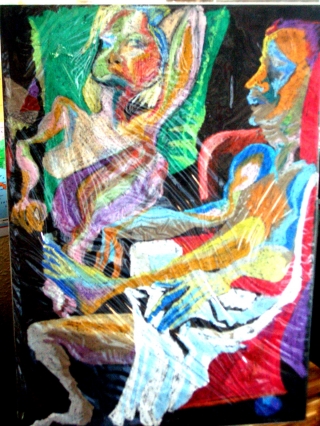 landlady in conversation

2 total reviews

Comment from

alaskapat

Wow! This is a very well rendered piece that touches on a subject that is so profound, the older person , in a position of authority and power, taking advantage of the younger woman, this happens way too much . I agree with you that there should be classes in school, to teach assertiveness . You have shown this situation so very well and with your usual great use of color and in your distinct style, and I have to say, this belongs in a gallery, you are a very special lady! Thank you for sharing this!

Comment Written 23-May-2019
---
reply by the author on 24-May-2019
thank you. Assertiveness made me see things much more clearly, which seemed muddled before, with good manners and behaving properly.
Comment from
Brendaartwork18
This is very well rendered in an abstract fashion that clearly illustrates your notes and story. There is suggestion of allurement in the sitting figure and apprehension in the pose and features of the young woman. Much fluidity here that lends movement and emotion. Excellent colour pallet dark and light and multi all blending and working very well together.
Comment Written 23-May-2019
---
reply by the author on 24-May-2019
thank you. We all know it goes on, but a new girl student's landlady, well I felt was a bit over the top.
reply by Brendaartwork18 on 24-May-2019
I would have also thought so.