Reviews from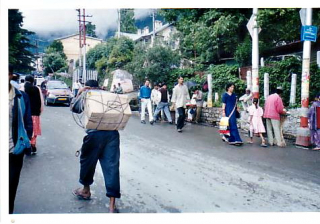 Nanital porters

2 total reviews

Comment from

Patti C

Your photo explanation was very interesting. Regarding the photo, the focus is a little soft. The colors are nicely saturated and look natural. I think it would've been nice to have seen your porch her from the front or from the side so we could see him bent over with his heavy load. Good luck in the contest

Comment Written 30-May-2019
---
reply by the author on 31-May-2019
Thank you-I did have others were the porter was front and side, however this was the only one were you could see the mists in the distance with the porter, as this is the highest lake up in the Himalayas, which is why it is so surprising. It was the place the English Army came for their rests when they held India. I do not specifically photograph, just when I see something which I find interesting.
Comment from
Dick Lee Shia
Nice journalistic capture of the people in an Indian highland...
Please don't crop soles...
I guess what this contest is all about is to show the whole mountain captured from a distance...
Great story telling factor.
Sharply focused.
Natural colors.
Bright lighting.
Good perspective & long depth of field...
Best of luck in the contest!
Thanks for sharing...
Comment Written 30-May-2019
---
reply by the author on 31-May-2019
thank you- actually I didn't. I don't specifically take photos, only of interesting things. Nanital is the highest lake in the Himalayas and to have a thriving town there is amazing. The British Army used to go there for rests during the Raj, there are two roads round the lake, one higher one lower. The higher one was for the British and their horses and carriages, the lower one for Indians, who would get splashed with all the dirt from the British. It is interesting the mixture of extreme hate and extreme copy-the-Brits of the people, those who stopped being Indian and became copy-Brits and the endless numbers of 'the Brits hung/imprisoned grandfather. I know this to be true as my son in law is also Anglo-Indian, Feroz Gandhi and his granny were sisters, and he told me how the British lorries would come out of the blue and throw his aunts, elderly ladies into prison for weeks and months for no reason that anyone knew of. They are in England because of a ''love marriage'' Brahmin millionaire's daughter married to business class! It does not stipulate a mountain range and my camera is not up to that!
reply by Dick Lee Shia on 31-May-2019