Reviews from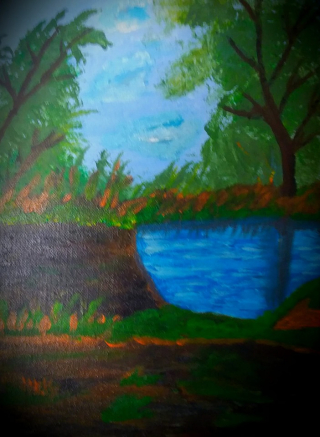 acrylic

2 total reviews

Comment from

Highfive

Oil paints are very hard to master, but great afford on your part to capture the essence of a lake side scene. Very nice painting. Do not give up on other mediums they can help you grow as a painter too. Everyday, open by doing gesture drawings in sets of five on drawing paper, not expensive paper though, qualities not important for this exercise. Use a number 2 pencil or conte crayon. Draw anything you see. It does not what it looks like at first. Once the gesture are complete, use a heavier pencil, and start defining line with contour line. Do this daily, your drawing skills will improve.

Comment Written 01-Sep-2019
---
reply by the author on 02-Sep-2019
Why, thank you much for the advice. I will give it a try. I want to try plein air but haven't gotten brave enough yet, maybe that will help.
reply by Highfive on 02-Sep-2019
Well plein air was used to study the different shades of color with the different effects of sunlight out doors, usually around mid day. Again start with gesture, even with the paint brush. Invest in a set of acrylic paints, because they dry fast, and allow you to paint over existing images quickly. work with both, you will find acrylics are easier use for renderings.
reply by the author on 08-Mar-2020
Thanks, I will give it a try.
Comment from
alaskapat
Hi Linda, I like this scene with the pond and the way you show the land that borders it on one side with the pond on the right. It's a pretty blue sky with cloud detail framed by the green foliage, the earthy brown ground interrupted by the grasses and orange plants growing in back and again at midway. It's a pretty shade of blue just a bit darker then the sky on the pond. I like the tree at the edge of the pond and very close to the right frame. This is well created, arranged and presented!
Comment Written 01-Sep-2019
---
reply by the author on 02-Sep-2019
Thank you so much, I am thinking of taking the pond all the way across, it looks so pretty. I might paint a similar with Fall Foliage.
reply by alaskapat on 02-Sep-2019
It would be so pretty with fall foliage!