Reviews from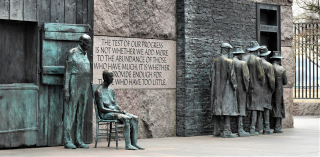 A quote from Franklin Roosevelt

3 total reviews

Comment from

fotogran

Is this in a place where any of our elected representatives can see it? i would guess not or they cannot read, which would not surprise me either.

Comment Written 23-Oct-2019
---
reply by the author on 24-Oct-2019
Thank you for your 6*, much appreciated!
Comment from
shoregrass
A perfect contest entry. Also, excellent shot at an artistic angle that presents every aspect of the monument in superb clarity and detail letting its powerful message shine forth. Best of luck in the contest.
Comment Written 20-Oct-2019
---
reply by the author on 20-Oct-2019
Wow thanks so very much for your wonder review and high stars, so much appreciated!
reply by shoregrass on 21-Oct-2019
Comment from
seshadri_sreenivasan
Nice looking shot! Very apt posting for the contest!. Excellent choice. I was in Washington on a visit and remember to have seen this Looks very impressive in person. A headon shot would have been more impressive. Nonetheless this is impressive
Comment Written 20-Oct-2019
---
reply by the author on 20-Oct-2019