Reviews from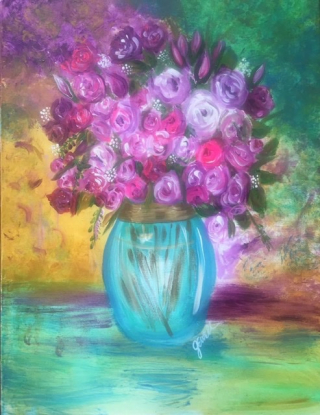 Acrylic painting on canvas

3 total reviews

Comment from

helvi2

Hi Jewel. You've become quite the artist my friend! I love all the colors in this! Each color defines the beauty of another. I'm not surprised it sold before it dried! LOL You have a nice touch. I don't know how I missed this when it first came out. It's beautiful! Congrats on your third place win! :o) Nancy

Comment Written 12-May-2021
---
reply by the author on 17-May-2021
Oh I have dropped the ball and didn?t even know I placed. Lol
Nice to hear from you!
Comment from
Oats19
What a beautifully colorful painting. Yes roses are beautiful flowers . So delicate and fun to paint . Your vase is also done well . A great painting .
Comment Written 06-Nov-2020
---
reply by the author on 06-Nov-2020
I appreciate your kind words!
reply by Oats19 on 06-Nov-2020
Comment from
JirinaInspire
The softness of these purple flower blooms are so nicely presented against the green and yellow background, balancing the piece and optimism this beautiful painting represents.
Comment Written 06-Nov-2020
---
reply by the author on 06-Nov-2020