Reviews from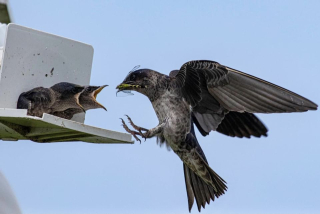 Purple Martin feeding young

3 total reviews

Comment from

Naomi Byrd

Picture is absolutely beautiful a bit plain, yet it's so amazing to see the beauty in nature and moments like these are rare to see the wild side of nature at such close view.

Comment Written 12-Oct-2022
---
reply by the author on 15-Oct-2022
I appreciate your high compliments on my "absolutely beautiful, amazing, rare" photo. I am also glad that you noticed that I was able to avoid having a busy, distracting background (I suppose that is what you meant by a bit plain. Avoiding distractions from the main subject is very important in photography, especially of wildlife. The low 3 star rating is quite a contrast to your written critique, but I suppose I always need to be careful to stay humble, and that rating will definitely keep my pride at bay. I hope you enjoy familiarizing yourself with this photography/ art site.
reply by Naomi Byrd on 16-Oct-2022
Thank you for taking the time to reply your feedback explains it's self quite nicely and gives me a better understanding. It's always great to understand more about what I maybe missing out on, I absolutely welcome a strong response as that give me further insight to better myself on how to review others in the future.
Comment from
iPhone7
What a great capture of this male Purple Martin delivering the much welcome food.
Your timing was perfect as it catches the split second frozen action.
A great entry for the Action Photo contest. I wish you all the best in the voting.
Comment Written 26-Aug-2022
---
reply by the author on 26-Aug-2022
Comment from
Jewell McChesney
This is a fantastic capture, Timothy! It tells a story all its own, very well. Made me smile. Thank you for sharing a nice piece of work, here!
Comment Written 26-Aug-2022
---
reply by the author on 26-Aug-2022