Reviews from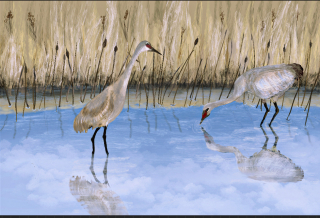 Two sandhill cranes looking for food

2 total reviews

Comment from

alaskapat

The Sandhill crane is such a favorite of mine, they fascinate me because of their size and the way they are structured with such long legs and bills, I love hearing the sounds they make too!

You have done such a great job here, to digitally create two sandhill cranes standing in the shallow water. I like the two different positions you have placed them in with the one on right getting a drink ,( look at the realistic ripples around its bill) and the other one just looking on from the left.

The crane are well created with such realistic shape, structure and colors! I love the water reflecting the blue sky and the cranes too!

Background is perfect, it is the marsh grasses in the fall , it tells the story of the cranes preparing to migrate for the colder months, I actually just saw them leaving Alaska a few weeks back when I was up north.

This is very well created, arranged and beautifully presented!

Very best wishes to you in this contest!

Comment Written 17-Oct-2022
---
reply by the author on 17-Oct-2022
Thanks Pat, you do such a detail look at images I am impressed and pleased. When I am outside and hear a call of a sandhill I immediately look around as they could be anywhere, the call is so cool.

I looked at the details of your camera. Wow, 2000 mm and a 1cm minimal focus distance for macro. Hard to believe that combination can be found in one camera. Wish I knew of this years ago. With that camera and Alaska as a backdrop no wonder you do so well on FAR!!
Comment from
Ray Gordon
Very nice expressive entry of two cranes hydrating in preparation to migrate to a warmer place. The water is light and reflective. The picture is framed well. Very nicely presented. Ray
Comment Written 17-Oct-2022
---
reply by the author on 17-Oct-2022
Thanks a ton Ray for your review.
reply by Ray Gordon on 17-Oct-2022
You are very welcome. Ray