Reviews from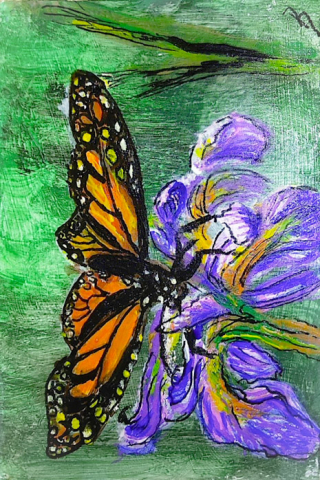 Butterfly landing

3 total reviews

Comment from

Daphne Oberon

Lovely combination of accuracy combined with natural spontaneity in this realistic "colour sketch"! The petals of the iris flower are so soft and natural, the butterfly so spontaneous in its position -- you can still feel the motion from the landing in its posture... This is just lovely! Thanks for sharing!

Comment Written 13-Dec-2022
---
reply by the author on 13-Dec-2022
Oh thank you this is a delightful review and those stars very much appreciated
Comment from
nikman
A good looking entry into the competition posted here! Your fine and full composition offers us an enjoyable view of the visitor and the visited. Colours textures and tones are good. Nicely done!
Comment Written 05-Dec-2022
---
reply by the author on 05-Dec-2022
Thank you. Comments much appreciated
Comment from
alaskapat
The butterfly is anything but simple, I really appreciate the way you have positioned it on the purple flower, the butterfly is well created with good shape and structure , nice attention to the details , well chosen and applied colors , the flower is beautiful , it appears to be a type of Iris . This is well created, beautifully arranged and presented, Nice entry for the contest! Best wishes to you !
Comment Written 05-Dec-2022
---
reply by the author on 05-Dec-2022
Haha ! Pat I now see your right side up version. That is interesting a view that I can see both ways. This is a miniature I did a while ago on an ATC now you have me wondering how I made it :) ? Question.. do you think it is better right side up?
reply by alaskapat on 05-Dec-2022
I still see it sideways , because it is sideways , I assumed it was upload this way, however, if it was your intention to present it this way, then leave it, it is still a lovely pairing , I will look again if you see changed .
reply by the author on 06-Dec-2022
I see it your way too but I am leaving it
reply by alaskapat on 06-Dec-2022
reply by the author on 10-Dec-2022