Reviews from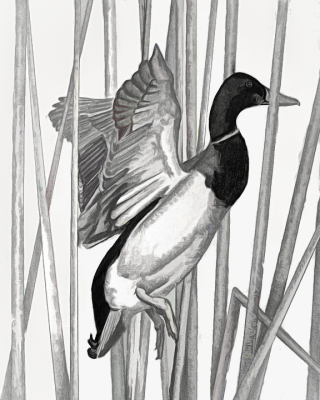 Flying mallard pencil drawing

3 total reviews

Comment from

Zilyram

Love the pencil drawing of the Mallard Duck which appears to be in the correct proportions with the wing displayed ready to settle after landing. Nice to view.

Comment Written 01-Feb-2023
---
reply by the author on 02-Feb-2023
Thanks so much for the review!
Comment from
bpellephoto
Every time you apply a digital algorithm for what ever reason you lesson that part of the piece that is you.
I see before me an original piece of art that needs no binary enhancement techniques. I seriously doubt there are digital processes that can improve upon what came from your mind.
this is an exquisite example of fine art in its purest form.
This is a very good entry for this contest and I think it will do very well ... Bob
Comment Written 28-Jan-2023
---
reply by the author on 29-Jan-2023
Thank you for your review. I have done both traditional and digital art. I am finding that a great deal of traditional artists don't care for digital art. That's okay. Everyone has their preferences. Personally, in my mind, anything an artist creates whether on paper or a computer screen ultiimately comes from an artist's mind. I will be posting an image of a pencil drawing I did that I added a digital effect to and it won Best in Show in the student art show from the college I graduated from. Out of nearly 500 students in the digital art category. I do thank you so much for your lovely review and kind words though. But I do agree with you that some pencil drawings are best left as is :)



Comment from
Jewell McChesney
Wow! A well rendered drawing of this duck, done in pencil.You do have a great talent.
I'd like to see what you would do to it digitally, perhaps by doing some colors painted in.
The detail in the wings is awesome! Great job. Thanks for sharing. Good luck in the contest!
Comment Written 28-Jan-2023
---
reply by the author on 29-Jan-2023
Thanks so much for the review. Yes I may still rerender this digitally, we will see.