FanArtReview:

We just released an upgrade! Review by phone? You'll love our new look! Compacted and less clutter. Click on the image (this works on the computer too) to see a larger image.

May 4, 2019 at 1:39PM

Athena3D: Wow I will look into this a fellow coder I want to find work graphic arts coding I can do it all fine art oil painting. Great to stay involved I enjoy sharing your comments and other artists everyone is extremely creative I have fun with the review and get to know where I stand, Leaning is the key I couldn't do this alone. Thank you for you comments.
June 9, 2019 at 12:05PM
Athena3D: kool I design Websites for I phones , I enjoy this site it gives me inspiration to keep going ion at most jobs I need further advanced education I get paid for painting I generate clients on my own but its seasonal there is a change in gears from Old school creating art into computer graphics. then marketing it is a big world.
July 7, 2019 at 2:59AM
FanArtReview:

We hope you are as excited as us about the new feature! What is the best ranked photo of 2019? The best ranked artwork? Now for the first time ever you can find out. To view the new listing click here.

April 22, 2019 at 3:33PM

FanArtReview:

A new feature has been released. Customize the look of your FanArtReview pages! Choose from 30 different color schemes! Get started here.

April 3, 2019 at 3:12PM

Christine Rohr: Hi FAR, Just wondering what happened with the color green contest. Did I miss the posting?

April 5, 2019 at 3:43PM
FanArtReview:

We've upgraded the site in many areas. Our goal was to focus on ease of use and better communication with others.

Key areas to look at are your feedback page and reply page.

Also from your "MY" menu (or profile) choose "Contests". That will bring you to your contests page. This page has been completely overhauled to make it easier to track contests and enter contests. It is now like your own private contest page as you make reservations.

The buddies feature has also been completely changed (yes it existed before but was limited) to allow members to easily stay in contact with others.

There are changes throughout the site in look and feel. But we went to great lengths to make this upgrade seamless. Hopefully nothing should seem unfamiliar just enhanced. If you have any questions please let me know.

Thanks,
Tom

March 22, 2019 at 10:46PM

Tabris6ie: Thanks. Can i retrieve my previous portfolio or is that gone now
Regards
March 28, 2019 at 5:47PM
Christine Rohr: Your attention to the website and hard work is much appreciated.
April 3, 2019 at 4:28PM
Christine Rohr: Your attention to the website and hard work is much appreciated.
April 3, 2019 at 4:28PM
Christine Rohr: Your attention to the website and hard work is much appreciated.
April 3, 2019 at 4:28PM
FanArtReview:

suffolkbrian created a popular photo contest called "Its Been Framed". It's so popular that we created a second one with a cash prize. Check out the new Its Been Framed photo contest. Special thanks go out to suffolkbrian for the idea.

January 9, 2019 at 1:49PM

mamamary: I need to be taken off the baby art contest. I don't draw or paint. Only photography. So sorry for the mistake.
February 2, 2019 at 11:25PM
mamamary: I also need to be taken out of this contest. I'm a photographer, not an artist.
February 2, 2019 at 11:27PM
Christine Rohr: Thank you Suffolkbrian! I have to put on my thinking cap for this one.
March 10, 2019 at 11:45AM
FanArtReview:

Our new trophies are custom designed. That includes names and ranking information engraved by laser (right onto the trophy itself). If you won a trophy you should receive it by Monday of next week.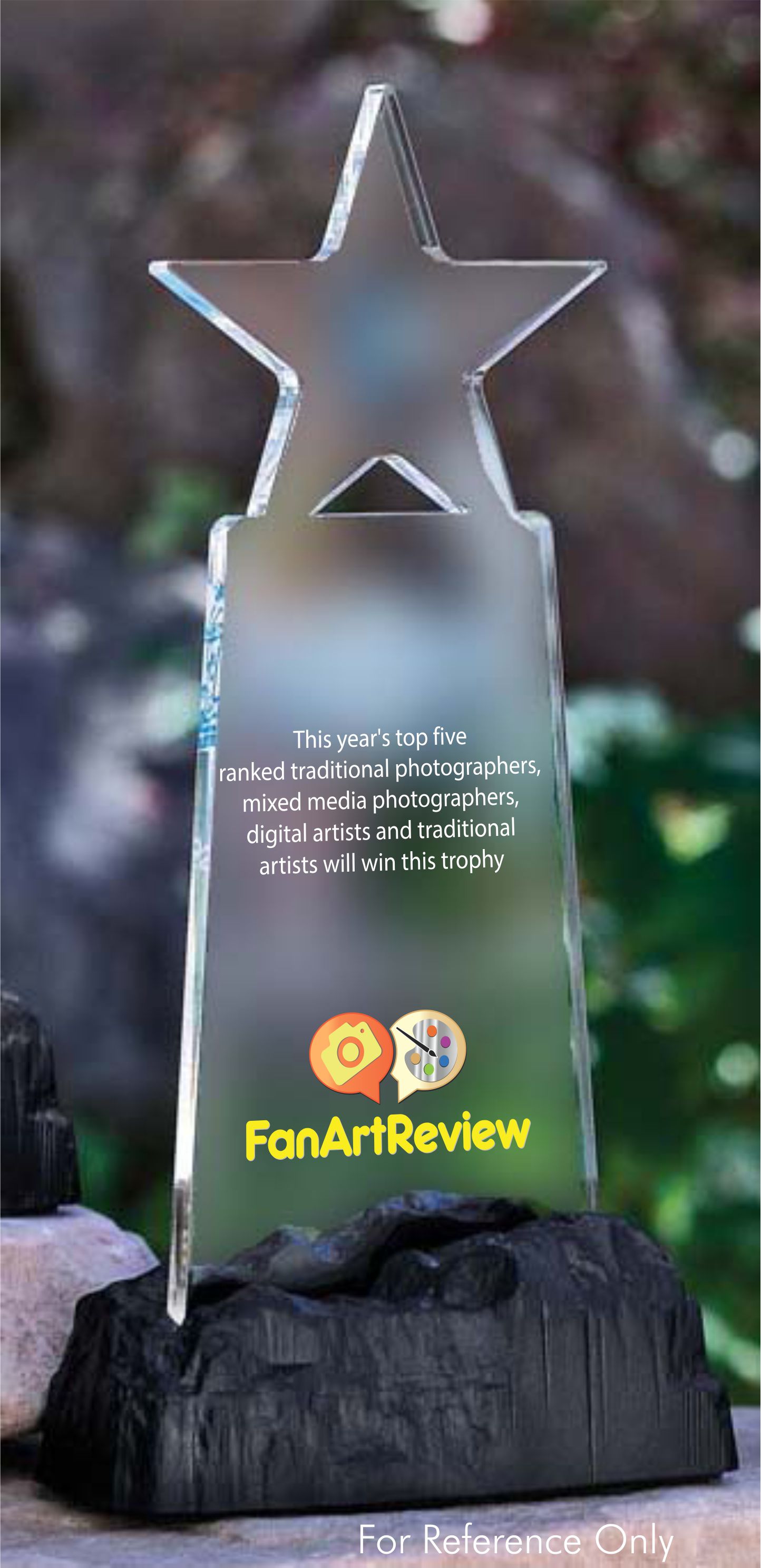 February 8, 2018 at 5:33PM

Minnie Kaye: That is so lovely. If only......

February 9, 2018 at 7:43PM
L5208904: Those are very nice
February 18, 2018 at 1:51AM
booklotto: Very sweet design!
February 19, 2018 at 7:29PM
Pink Flutters: I love everything about this trophy; and wouldn't change a thing. Now that's saying something!
February 20, 2018 at 7:42AM
RJ Schiller: I want one for my den. It's great....RJ

March 31, 2018 at 5:07PM
swcarhaulr: Thanks so much. I am speechless. I appreciate all the comments & votes.
Again...Thankyou all so much
May 10, 2018 at 11:38AM
CorbyLinda: Wow I can only wish .....
May 31, 2018 at 6:27PM
Silvia Labbate: Wow! That is very honorable! I love the design!
June 9, 2018 at 3:30PM
Sarojini: Wow..that would be awesome

July 26, 2018 at 7:45AM
booklotto: Happy Birthday FAR!
September 10, 2018 at 12:57PM
Amanda_2: Wow! What an accomplishment it would be to win this trophy!!!
September 30, 2018 at 7:13PM
Dana Day: I hope I win. Lol
October 22, 2018 at 9:17AM
Dana Day: Awesome
November 1, 2018 at 12:43PM
Dana Day: I?d love to would absolutely love to win and have this piece in my home to view as a reminder of what I should be doing. Great design....
November 16, 2018 at 5:57PM
Christine18: Super! Grateful for this opportunity!!
November 26, 2018 at 11:03AM
John Kotalac: It?s sweet I want one
January 3, 2019 at 6:41AM
Artistic Chick: What an honor to think that my honest technical and thoughtful reviews would bring nominations.
January 6, 2019 at 5:41PM
Artistic Chick: Very cool. If only I could add it to my fireplace mantle
January 12, 2019 at 6:17AM
FanArtReview:
Thank you for a wonderful 2017!
We had a recording breaking number of posts and reviews
Reviews In 2017
Reviews Written: 159,027 or 436 per day
Replies: 191,620
Number of reviewers: 527


What We Posted
Photos Posted: 16,253
Everything Else: 5,436



December 30, 2017 at 5:32PM

booklotto: Congrats to all here!
January 3, 2018 at 4:19PM
HannahAvila: Hi, my balance went down a few dollars, but I didn?t spend that much. I was saving it for upcoming entries.
January 11, 2018 at 3:43PM
swcarhaulr: Thanks so much. I appreciate all the comments & votes.
Again...Thank you all so much
May 10, 2018 at 11:39AM
Regina E.H-Ariel: Beautiful Design and more artistic....
May 12, 2018 at 11:43PM
Regina E.H-Ariel: Beautiful Design and more artistic....
May 12, 2018 at 11:43PM
Silvia Labbate: What a gorgeous trophy!! Beautifully made!!!
May 24, 2018 at 12:29PM